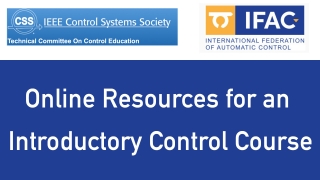 Last Edited: 10/27/2023
The IFAC and IEEE Technical Committees on Control Education are seeking to curate information on freely available learning and teaching resources for the first course in Control. The aim is to provide a simple one-stop shop website where instructors can get an overview of free resources they could adopt with their own students. 
The following journey contains the online resources that were collected from the community responses. Some of the content is beyond the traditional scope of a first control course. The mapping of the online resources to topics typically covered in a first control course will be completed in the near future.