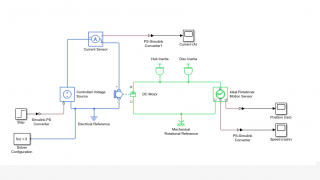 15 min
Intermediate
Article / Blog
Theory
Modelling a DC servomotor is one of the common examples used in control system textbooks and courses. Given that so many systems use DC motors, e.g. robot manipulator arms, it's an important exercise to go through as well.  
If you ever compared your DC motor model with the actual hardware, you probably found that it did not quite match. That is very common and, frankly, is usually fine as many applications do not need an extremely accurate model. In addition, if the model is too complicated then it makes it more difficult to conduct your control design. However, it can be valuable to investigate the sources that cause this mismatch and to use more advanced software methods to get a more representative model without having to spend a lot of time doing it.  
This blog shows ho to use the Simulink® Simscape™ environment to model the Quanser QUBE-Servo 2 and show one method to identify the Stribeck and Coulomb friction.